Politicos expect PM Modi to act in India's interest during U.S. visit
Submitted by Hardeep Sidhu on Wed, 09/24/2014 - 22:45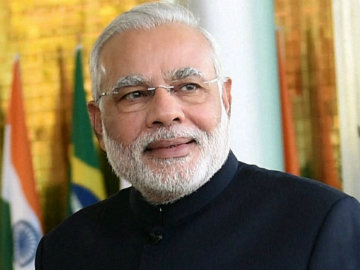 Bangalore/New Delhi, Sept 24 : Former minister of state for external affairs and Congress leader Shashi Tharoor on Wednesday wished Prime Minister Narendra Modi ahead of his maiden visit to the United States and said that his party stands united with the ruling BJP-led NDA Government as far as the country's national interests are concerned.
"We all stand with him and behind him always. When national interests are concerned, the Congress party is not different from the government. We want the government to succeed in the interest of the nation. We wish the Prime Minister a very successful visit," said Tharoor in Bangalore.
Nationalist Congress Party (NCP) leader Majid Memon on his part said he hopes that Prime Minister Modi would not come under any pressure from the U. S.
"We expect the Prime Minister will take every step keeping India's diplomatic policies intact and safe," he told ANI in New Delhi.
Prime Minister Modi will arrive in the United States on Friday aiming to woo corporate titans and crown a burst of investment-focused diplomacy, while marking a personal victory for a man who was for years unwelcome in the country.
Prime Minister Modi, who was elected in May, will spend two days in New York before heading to Washington for his first meeting with U. S. President Barack Obama.
The Prime Minister's schedule lists about 35 engagements, including an address at New York's Madison Square Garden, a speech to the United Nations and an appearance at a Central Park festival that features rap star Jay Z.
He will be meeting the U. S. political elite, including former president Bill Clinton and his wife and former secretary of state Hillary Clinton.
Prior to his address to the United Nations, Prime Minister Modi will also be meeting United Nations Secretary-General Ban Ki-moon.
The visit is being looked forward to as the United States had slapped a ban on Modi's entry in the aftermath of the 2002 Gujarat riots.
To a question about the US earlier boycott of Modi, Ministry of External Affairs (MEA) official spokesperson Syed Akbaruddin had yesterday said that the Prime Minister 'looks forward and not backward' in a relationship.
India-U. S. bilateral relations have developed into a global strategic partnership, based on increasing convergence of interests on bilateral, regional and global issues.
Regular exchange of high level political visits coupled with wide ranging dialogue architecture has enabled sustained momentum to bilateral cooperation and helped establish a long-term framework for India-U. S. global strategic partnership.
The bilateral cooperation between India and the US is now broad-based and multi-sectoral, covering trade and investment, defence and security, education, science and technology, cyber security, high technology, civil nuclear energy, space technology and applications, clean energy, environment, agriculture and health.
India and the U. S. have intensified and expanded their strategic consultations in recent years with dialogues covering East Asia, Central Asia and West Asia. (ANI)