High roller in Nepal? Beware high notes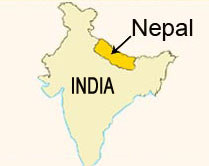 Kathmandu/Pokhara, Nov 5 - "Heading for Nepal? Be sure to hit the casinos." These words of encouragement came from family and friends urging me to chance a game or two at the famous gambling destinations in Nepal.
Enthusiastic about my first opportunity to gamble, before leaving New Delhi I withdrew some cash from the ATM -- notes of Rs. 500 and Rs. 1,000. But alas, I was to later find out it hadn't been the right thing to do -- or had it?
Indian currency is highly regarded as a boost to Nepal's economy, especially in the tourism sector, since a majority of inbound tourists are from India. The trouble is that in recent months fake Rs. 500 and Rs. 1,000 notes of Indian currency were spotted in casino circuits and market places, sounding alarm bells.
So if you want to "legally" place a bet at the happening table be sure that you are carrying small denominations, warned Sandesh Acharya, a travel agent."
So, cautiously, for the first time in my life, I placed my bet on the blackjack table with the few 100s that I was carrying. It was at the casino of the scenic Fulbari Resort and Spa in Pokhara.
Was I on a roll, or was it a beginner's luck? Whatever it was, I had doubled my money in no time. Not wanting to be too greedy, I thought of cashing in. Interestingly, the cash counter that wouldn't accept my Rs. 500 note, handed me a crisp pink Rs. 1,000 bill in exchange for my chips.
"The government has become very strict about use of INR 500 or 1,000 notes. There was a lot of problem in recent months, because most of our guests come on corporate events from India and they carry mostly notes of high denomination. It took a toll on our business," Samanta Jib Tuladhar, general manager at the resort, told IANS.
In a small town like Pokhara, Tuladhar said, such high-denomination notes are very noticeable and people don't want to come under the government's scanner.
The scene however is a little different at the casinos in Nepal's capital Kathmandu. I went to the popular Tara Casino, in Hyatt hotel, which is always buzzing - day or night. Here, with a little discretion, you can still get chips for the high value notes.
High rollers, regulars, first timers all place bids, as the petite Nepali woman doing the deal declares: "No more bets".
One of the dealers said: "Big INR notes used to be a problem in recent months, but now although the government is strict, we do accept big notes. This is after all what pumps the business."
Here's a warning though. If you exchange a lot of Rs. 1,000 or Rs. 500 notes, you are on the radar.
"When you exchange chips on the cash counter, if there are many high Indian currency notes, we watch the person for how he or she is playing. The government is strict and we have to keep our eyes open," a casino official, who did not want to be identified, told IANS.
Though the currency factor could make you wary about gambling at these casinos, the experience of placing bets and winning is worth every apprehension. (IANS)