Modi gave more money to Adani than what we invest in MNREGA: Rahul
Submitted by Mohan Kumar Shr... on Sat, 05/03/2014 - 21:39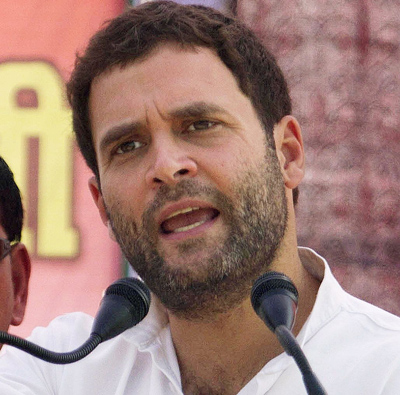 Amethi, May 3 : Congress vice president Rahul Gandhi on Saturday alleged that Bharatiya Janata Party (BJP) prime ministerial candidate Narendra Modi gave away more money to businessman Gautam Adani than what the Congress-led UPA Government invests in the MNREGA scheme in one year.
" Modi gave away more money to Adani than what we invest in MNREGA in one year i. e. 30000 crore rupees. We are giving 30000 crore rupees to farmers through MNREGA but he has given 40000 crore rupees to one business," Rahul said while addressing a public meeting here.
He also said that the opposition believes in the politics of divide, while adding that they make people fight with each other.
"Every five years, they come here. They abuse, criticize and throw stones, and afterwards they go back. Again after five years, they come back and do the same thing again. But I will give away my entire life to this region (Amethi). I am not going to move from here," he said.
He said that it is his aim to ensure that Amethi prospers and progresses ahead.
"We provided the facility of a hospital, school and linked women with community. We have changed the lives of people living here," he added.
He also said that the Congress has a deep and intense working relationship with the people of Amethi.
"We have been fighting for the rights of the farmers, and hence have brought a food park here. The farmers of Amethi and nearby region can sell their yield in the food park," he said.
He also claimed that Amethi has the highest number of National Highways than any other district in the whole country. (ANI)