Maradona thinks Angel Di Maria will be worldwide superstar within 2 years
Submitted by Sukhdeep Grewal on Wed, 10/28/2009 - 22:45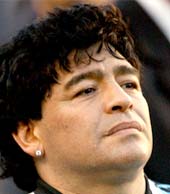 London, Oct. 28 : Argentinean Football legend Diego Maradona has predicted that winger and Chelsea's first transfer target, Angel Di Maria, will emerge as a worldwide superstar within the next two years.
"Angel has the quality to be a worldwide superstar within the next two years. I have always followed his career closely and his level has increased enormously since he's been in Europe," The Mirror quoted Argentina boss Maradona, as saying.
Despite their transfer ban, Chelsea sent scouts to watch Di Maria, the Benfica forward destroy Everton and then help the Portuguese club beat Nacional Madeira.
Benfica have put a 40 million pounds buy-out clause on Di Maria and there is a complicated sell-on clause as the Portuguese giants own 70 per cent of the player, his agent Jorge Mendes owns 10 per cent and an Argentinian bank owns the rest.
If Chelsea wins an appeal against the transfer ban, Di Maria will be one of their first targets.
However, Di Maria's value could shoot up if he has a good World Cup for Argentina. (ANI)