Load of gold found inside sunken ship in South Atlantic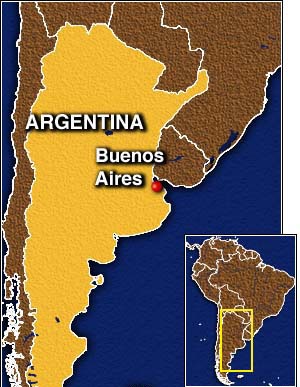 Buenos Aires - Millions of dollars in gold and silver that were on board a ship which sank in January in mysterious circumstances in the South Atlantic were found inside the wreckage.
A special robot took video recordings of the ship 80 metres below the surface of the ocean. They showed the bundles and baskets holding some 9.6 tonnes of raw gold and silver, the Argentine daily Clarin reported Tuesday.
"The Polar Mist is resting on its belly at the bottom of the ocean, in the same position it was sailing in. And all its compartments are closed," a source close to the mission was quoted as saying.
Argentine media has speculated earlier that the load - worth an estimated 16.4 million dollars - had been stolen and that the ship had been deliberately sunk about 40 kilometres off Argentina's Patagonian coast to hide the robbery.
The loaded ship was overcome by huge waves in January off the coast of the southern Argentine province of Santa Cruz, but remained afloat after the crew was rescued by Argentine authorities. The ship was then tugged by a Chilean boat towards the coast, but inexplicably and mysteriously sank during the manoeuvre.
An earlier attempt to recover the ship failed in April. The owners of the missing minerals, the mining firms Cerro Vanguardia and Tritton, argued that the effort was too expensive.
This time, recovery efforts were carried out by a ship hired by the Polar Mist's insurance company, Lloyds in London. With the help of specialist equipment, they were able to determine last week that the ship they found was indeed the Polar Mist.
The load - which was originally being taken to Chile, en route to Switzerland - was expected to be brought to the surface as soon as the weather in the area allowed.(dpa)