Limited edition fastest Lamborghini with $3.9m price tag sold out
Submitted by Karan Jakhad on Wed, 03/06/2013 - 15:14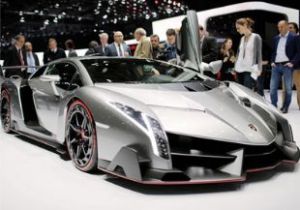 New York, Mar 6 : The fastest Lamborghini ever built - the limited edition Veneno, which was unveiled at the Geneva Motor Show with its 3.9 million-dollar price tag, sold out its limited run of three vehicles.
It features a 12-cylinder engine capable of reaching 220 miles per hour, the New York Daily News reported.
Lamborghini hopes to use the Veneno as a testing ground for new materials and technologies that it will eventually introduce to its less limited-edition lineup.
The Lamborghini Veneno is so aggressively styled it runs the risk of giving small children nightmares, but luckily it is so incredibly fast that most people lucky enough to set eyes on one (production is strictly limited to three examples) will see nothing more than a streak of red, white or green light shooting past at a speed of close to 355kph (220 mph).
With the Veneno, Lamborghini has taken a thoroughbred race car and tamed it just enough for the road.
That's why it's built almost entirely from carbon fiber and boasts a V12, 750 horespower powertrain and permanent four-wheel drive, and that's why it's called the `Veneno' -- Veneno was a legendary fighting bull whose reputation was built on the fact that it was one of the strongest and most aggressive in history.
The model making its world debut at the Geneva Motor Show is grey, but the three production models will each be finished in one of the three colors of the Italian flag.
Likewise, although the Italian supercar maker has guaranteed delivery of each production model before the end of the year, production won't start until further track-based testing has been completed. (ANI)