Leftist activist killed in southern Philippines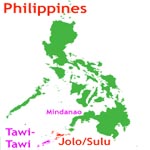 Cotabato City, Philippines  - A leftist activist was killed by unidentified gunmen in a southern Philippine city, a police report said Tuesday.
Eleazar Billanes, a spokesman for the leftist South Cotabato People's Alliance, was shot on Monday by motorcycle-riding gunmen in Koronadal City in South Cotabato province, 960 kilometres south of Manila.
He received several gunshot wounds and was killed instantly as he walked home from a public market, the report said.
The victim's colleagues blamed security forces for the killing, which they said was part of the government's anti-insurgency campaign.
Local human rights group Karapatan said it had recorded close to 1,000 political killings since January 2001.
Most of the victims were leftist activists and investigations into many of the killings remain unresolved.
Last week, the daughter of a communist rebel leader in the southern Philippines was found dead in a river, a day after she was abducted by unidentified gunmen.
Torture wounds were found on her body, police investigators said. (dpa)