Krishna describes attacks on Indians in Australia as unfortunate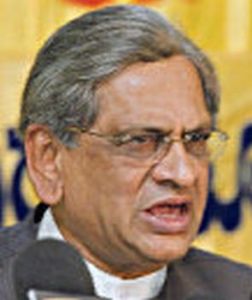 Minsk (Belarus), Sep. 17 : Reacting to the recent attack on Indians in Melbourne, Australia, External Affairs Minister S. M. Krishna said on Thursday that the incidents were unfortunate.
He said the Indian Government would take up the issue with the Australian authorities.
Krishna issued the statement after concluding his two-day visit to the Central Asian state of Belarus. His statement came even as Australian Prime Minister Kevin Rudd warned Indian students living in Australia not to take the law into their own hands.
The local Indian community in Australia has been told to take "some form of retaliation" following the assault of four men outside a bar in Melbourne on the weekend.
Rudd said Australia was a law-abiding nation.
"The laws are there for a purpose and that is for all citizens to adhere to them," he said.
When asked what message he had for anyone who took the law into their own hands, Rudd said: "People should not". (ANI)
Apart from Rudd, Victoria Premier John Brumby is facing a lot of flak for not doing enough to prevent racially motivated attacks on the Indian community in his state''s capital Melbourne.
A trip to India next week to promote Melbourne as a safe city has turned into a monumental challenge for Brumby after another racist attack attracted fresh headlines and anti-Australian fury across India.
Five days before he leaves for India, Brumby signalled that police may get more resources to fight racially motivated violence in response to the latest incident, in Epping on Saturday night.
Two Indian men and another two of Indian origin say they were racially taunted and told to ''''go back to your country'''' before being kicked and punched by attackers who were part of a large birthday celebration at Legends Entertainment Centre.
The Indian Government increased pressure on Australia over the ''''recurring attacks'''' on its citizens. It called on authorities to ''''take all necessary steps towards the safety and security of Indians''''.
Indian consular officials in Melbourne were also ordered to investigate, The Age reports.
The moves came amid a furious outcry in India, where cable TV news channels said they were flooded with angry callers, and blog sites ran hot with anti-Australian commentary. Noted author and television personality Farukh Dhondy said Indians must retaliate.
In Melbourne, Victoria Police did not put out a statement calling for witnesses to the attack until yesterday morning - more than three days after it occurred and a day after it had already been reported in India.
Police denied any attempt at a cover-up. Acting Senior Sergeant Glenn Parker said: ''''Unfortunately, within the community, these types of incidents happen regularly and this is really treated no differently, so there''s been no deliberate attempt to suppress it.''''
One of the victims, Sukhdip Singh, 26, had been in Australia just one month. A relative said he had suffered head and facial injuries and wanted to return to India immediately.
His uncle, Mukhtiar Singh, 45, also a victim, said Deputy Prime Minister Julia Gillard''s recent assurance to India''s Foreign Minister that Australia was safe for Indian students rang hollow. (ANI)