Iran's president calls on US to drop support for Israel
Submitted by Sukhpreet Manchanda on Thu, 10/29/2009 - 18:55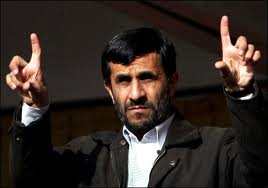 Tehran - Iranian President Mahmoud Ahmadinejad on Thursday called on the United States to drop its support for Israel to prove its claim of wanting change.
"You have to choose between your prestige in the world or support for the Zionist regime [Israel]," Ahmadinejad said in a speech in Mashad in north-eastern Iran that was broadcast on television. "You have to chose one of the two options."
Ahmadinejad said that changes promised by the administration of US President Barack Obama should be made in the Middle East - including the Palestinian territories, Lebanon and Iraq - as well as Afghanistan.
"We would like to witness these changes," Ahmadinejad said.
Iran does not acknowledge the sovereignty of Israel and considers the Jewish state to be the main root of both tension and terrorism in the region.
Tehran further says that tensions in the Middle East would continue if the rights of Palestinians are not respected and world powers do not confront Israeli policies. (dpa)
Technology Sector