INOX Buys 43.28% Stake In Fame, Shares Surge 10.9%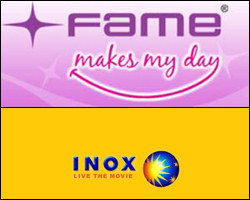 Multiplex operator INOX Leisure, a wholly division of Gujarat Fluorochemicals, announced that it has bought 43.28% equity stake in Fame India for Rs 66.48 crore.
Inox will purchase around 1,50,57,760 shares of Fame India for Rs 10 each, through a block trade in a single or multiple portions.
This acquirement will be accompanied by an open offer to get hold of another 20% in Fame India by making an open offer to the stock holders
The deal is completely funded by Gujarat Fluorochemicals.
This acquirement will create the largest multiplex networks with a collective strength of 55 multiplexes, 204 screens and an overall seating capacity of 57,891.
Mr. Deepak Asher, Director, Inox Leisure stated, "Over the next few months, we will evaluate the full benefits of integration and consolidation, to drive competitive advantage across the value chain and consider our strategic options in accordance with regulatory guidelines."
Fame India currently owns 95 screens, 25 operational multiplexes with 26,487 seats across 12 cities.
Moreover, the company also has subsidiaries including Big Picture Hospitality Services, its food business JV; Headstrong Films, a film production JV and Shringar Films, a film distribution business.
Previously, Inox got hold of Calcutta Cine, a Bengal Ambuja Company.
At 1:33 pm, the shares of the company surged 10.9% to trade at Rs 85 on the BSE. At present, the stock is trading down 2.6% from its 52-week peak of Rs 88.40 and above 354.35% over the 52-week low of Rs 18.95.
Today, the share price hit an intra-day peak of Rs 91.95 and low of Rs 78.50. Current EPS & P/E ratio of the stock stood at 3.66 & 23.27 respectively.
In the previous trading session (Feb 02), the shares fell 1.92% at Rs 76.65 on the BSE.