IndusInd Bank reports better than expected first quarter results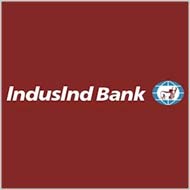 The IndusInd Bank has reported better than expected results in the first quarter till June 30, 2012, beginning the season of results for the sector.
IndusInd Bank reports an increase of 31 per cent in net profit at Rs 236 crore in the first quarter compared to Rs 180 crore in the same quarter of the previous year. The bank said that the higher than expected growth comes mainly due to strong growth in `other income' and improved loan book quality.
Mr Romesh Sobti, Managing Director and Chief Executive Officer said, "Despite no relief to banks on the funding side, we have coped well in a deteriorating operating environment to deliver a healthy growth in the bottomline."
The core income from rose 44 per cent at Rs 269 crore compared to Rs 187 crore in the first quarter of the previous financial year. Net interest margin fell to 3.22 per cent from 3.41 per cent. The bank's corporate loan portfolio rose 28 per cent and retail portfolio increased 46 per cent.
The total promoter shareholding in the bank was at 19.41 per cent and this might come down by 4-5 percentage points within this year, according to the bank officials.