India-US commercial ties to grow: Anand Sharma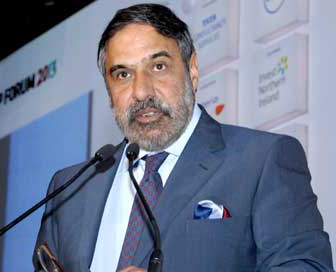 New Delhi, Dec 21 : Commerce and Industry Minister Anand Sharma Saturday said that the commercial ties between India and the US will not be impacted by the arrest of an Indian diplomat in New York and the "relationship will go stronger".
"In mature democracies issues get addressed. Issues are not allowed to cast shadow over what is truly a building partnership," Sharma told reporters here on the sidelines of the 86th annual general meeting (AMG) of Federation of Indian Chambers of Commerce and Industry (FICCI) held here.
According to the minister, the commercial ties between the two countries will not be impacted by the diplomatic row and that they are bound to grow from the current levels.
"India is outraged over the treatment given out to Devyani (Khobragade), but our relationship with US is far too important. It is a strategic partnership between the two largest democracies of the world. It (relationship) is strategic in every sense, so we are not disengaging. This relationship will go stronger."
Currently, both countries are engaged in diplomatic conversations at various levels to find a solution to the stand-off sparked by the arrest of Devyani Khobragade, India's deputy consul general in New York.
Khobragade was charged with visa fraud. She had to undergo a strip and cavity-search following her arrest on charges of visa fraud and under-paying her maid. (IANS)