Held hikers in Iranian legal limbo
Submitted by Ashok Rao on Wed, 05/26/2010 - 06:35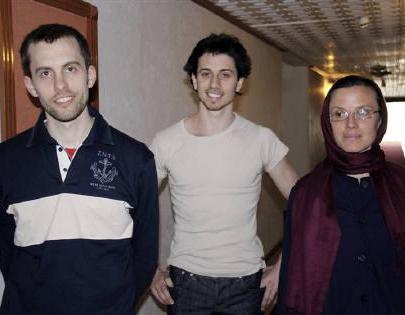 The families have said that three U. S. hikers arrested in Iran have spent 10 months in prison without being formally charged and with no access to lawyers.
Shane Bauer, 27, and friend Josh Fattal 27, are in a cell together while Bauer's newly-engaged girlfriend, Sarah Shourd, 31, is in her own cell, ABC News reported Monday.
The three American hikers were arrested in Iran in July 2009 as they hiked a path along the Iran-Iraq border after visiting a region of Iraq, The Oakland (Calif.) Tribune reported.
The mothers of Bauer and Shourd were allowed to visit them last week for the first time since the arrest, and Shourd's mother said her daughter "looked to me thin ... like she's been in prison," ABC reported.
"It's very difficult to be in isolation for 10 months," Norah Shourd said.
Iranian Intelligence Minister Haidar Moslehi said the three Americans' "status as spies is a clear and obvious case," but suggested a prisoner swap for Iranians in U. S. custody might be possible.
The U. S. Department of State has denied the hikers have any connection to American intelligence activities, and the families have called the accusations of spying ridiculous, the Tribune reported.
Norah Shourd said she was concerned about her daughter, who was suffering from depression and was considering a hunger strike, ABC reported.
Technology Sector