Gullwing Mercedes super sports car hits the road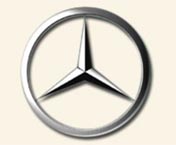 Stuttgart  - After celebrating its world debut at the Frankfurt Motor Show the new Mercedes SLS AMG super sports car hits the road early next year, reinterpreting the legendary 1950s 300SL classic but coming with the latest aerospace and racetrack credentials.
The AMG 6.3-litre V8 front-mid engine develops 420 kW/ 571 hp peak output with acceleration from zero to 100 km/h in 3.8 seconds. The top speed is electronically regulated at 317 km/h.
Mercedes describes the fuel consumption of 13.2 litres per 100 kilometres as "at the front of the competitive field," mainly because of lightweight materials and a spaceframe body.
According to Mercedes design chief Gorden Wagener, the gullwing doors are set to "pave the way for the design philosophy of forthcoming Mercedes-Benz sports cars." Other distinctive features are the almost two-metre-long bonnet, short rear and wide radiator grille with the large Mercedes star and the wing-shaped cross fins.
While some of the design cues may be classic, other features are all 21st century and taken from the latest aircraft and racetrack know-how. The interior brings to mind an aircraft cockpit. Integrated into the dashboard are galvanised air vents with adjustable, cruciform nozzles and Silver Shadow finish, reminiscent of jet engines. The concave inner panels of the gullwing doors, the high beltline and the powerful side sill panels round off the cockpit-like impression.
Despite the low sitting position of 369 millimetres, the wide-opening gullwing doors make it easy to get in and out of the vehicle. The opening angle is a full 70 degrees. The door is opened from inside by a handle finished in Silver Shadow. The grip section of the armrest moulded into the interior door panel ensures problem-free door closing.
Interior appointments come in designo leather. Other standard items are an electric parking brake, anti-theft warning system, headlamp assist, a keyless-go start function and rain sensor. Among the extras that can be ordered are a Bang & Olufsen BeoSound AMG surround sound system and an alarm system with tow-away protection and interior monitoring - that might be needed for a car priced at 177,310 euros (258,988 dollars) in Germany. (dpa)