Government probes Apple-Google link
Submitted by Sahil Nagpal on Wed, 05/06/2009 - 08:02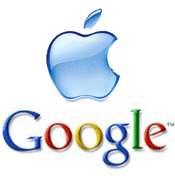 San Francisco  - The Federal Trade Commission is investigating the close relationship between tech giants Apple and Google to see if it violates antitrust laws, according to reports Tuesday in The New York Times and The Wall Street Journal.
Specifically, the government watchdog is concerned that the presence of Google CEO Eric Schmidt and former Genentech CEO Arthur Levinson on the boards of both Apple and Google could harm competition in the marketplace.
Analysts said that such probes rarely have serious implications and that the worst case scenario would be for the directors in question to resign from one of the boards.
The probe is set to focus on the effect the presence of the joint directors could have on the companies' cellphone activities, with the iPhone and Google's Android operating system looking set to increasingly dominate the smartphone market. (dpa)