Food inflation is down sharply
Submitted by Kiran Pahwa on Thu, 06/30/2011 - 16:13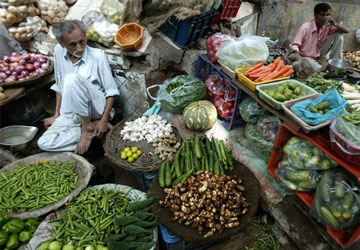 New Delhi, June 30 : In what could come as a respite to consumers and policymakers, India's food inflation slipped to 7.78 percent for the week ending June 18, compared to 9.13 percent recorded in the previous week, official data showed Thursday.
Food inflation had risen to a two-month high last week.
As per data released by the commerce and industry ministry, the primary articles index fell to 11.84 percent compared to 12.62 percent in the previous week.
The index for fuels and power, however, rose to 12.98 percent.
The dip in the food inflation figures should give some assurance to the Reserve Bank of India which has been hiking interest rates consistently since March 2010 to bring down prices.
The following are the yearly rise and fall in prices of some main commodities that form the sub-index for food articles:
Onions: 16.08 percent
Vegetables: (-) 10.08 percent
Fruits: 24.76 percent
Potatoes: (-) 2.39 percent
Eggs, meat, fish: 10.32 percent
Cereals: 4.76 percent
Rice: 2.01 percent
Wheat: 0.24 percent
Pulses: (-) 9.5 percent(IANS)