Foggy, chilly Monday morning in Delhi
Submitted by Hardeep Sidhu on Mon, 02/18/2013 - 13:46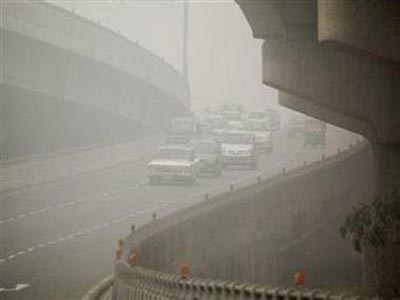 New Delhi, Feb 18 - Delhiites Monday woke to a chilly and foggy morning with minimum temperature settling at 9.4 degrees, a notch below normal for this time of year. The Met office forecast that the skies would clear later in the day.
"The fog will clear as the day progresses and the day would be sunny. However the evening might be cold," an official of the India Meteorological Department (IMD) said.
The maximum temperature is expected to hover around 21 degrees Celsius.
According to IMD, chill and cloudy weather will persist in Delhi but no rain is predicted for the next three days,
"The next three days will be clear. Another western disturbance Feb 21 will bring back light rain and thunderstorms for two or three days," L. S. Rathore, director general, India Meteorological Department (IMD), told IANS.
Delhi received 2.1 mm of rainfall Sunday 5:30 p. m. to 8.30 a. m. Monday.
Humidity at 8:30 a. m. was 94 percent; in the morning visibility was reduced to 100 metres.
Sunday's maximum temperature fell five notches below average to 19.5 degrees Celsius, while minimum temperature was 12 degrees, a notch above average. (IANS)