Film director: Violent crime part of daily life in Philippines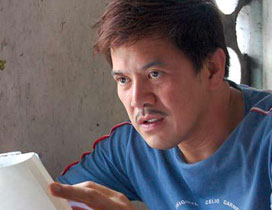 Cannes  - Filipino director Brillante Mendoza said Sunday he made his film Kinatay about a young man's plunge into violent crime as a reminder to the Philippines of how brutal gangs have become part of the country's everyday life.
"We have seen this story a lot in the Philippines - (media) stories about people being butchered and massacred," Mendoza told a press conference in Cannes marking his movie's premiere at the world's leading film festival.
"People in the Philippines see this as a form of entertainment but I wanted them to understand this is not just entertainment but it exists," the 48-year-old said. Kinatay means butchered in Filipino.
Warnings about corruption and poverty are the staples of Mendoza's movies. In Kinatay, he tells the story of Peping, a student, who is forced to support his young family by stepping up his involvement with mob violence.
Eventually Peping, who is played by Mendoza regular Coco Martin, is assigned the task of teaching a lesson to a middle-aged woman who owes a gang money for a drug deal.
"This really exists, this is really the scariest part," said Mendoza. "They are just like us," he said, referring to those that find themselves caught up with violent gangs.
Kinatay is also known as a journey into darkness, with Mendoza stumbling on the story of Peping when he was researching another film.
This is Mendoza's second consecutive appearance in Cannes' main competition.
Kinatay includes many of the stars of his film Serbis (Service), about a family battling to keep their rundown cinema in Manila in business, which was in the 2008 race for the festival's prestigious Palme D'Or.
Mendoza's latest work is also set against the background of chaotic big city life in the Philippines.
Kinatay is one of a series of films in Cannes main competition section where violence plays major part of the story.
Apart from movies about a blood-thirsty band of Nazi hunters in wartime France and a priest-turned-vampire, this also includes veteran Hong Kong director Johnnie To's Vengeance.
Starring French pop icon Johnny Hallyday, To's movie is about a man seeking revenge on a gang leader for the death of his daughter's young family. In so doing, the man triggers a bloodbath between triad hit men.
But in Kinatay, Mendoza said he wanted his audience to understand the everyday nature of the violence perpetrated by the gangs.
Mendoza said he wanted moviegoers to see Peping as "a normal person going through any normal life."
He also uses lashings of religious imagery in the movie to underscore the irony that such events could occur in a country that is tightly in the grip of the Catholic Church.
"When you watch a horror film it is there to scare you, but I want the audience to understand what the characters are going through," he said.
Peping, he said is trapped in the situation. He does not have a choice. (dpa)