Federer says 'does not matter' if he's No. 1 this year or next post Paris Masters fallout
Submitted by Sukhdeep Grewal on Sat, 11/01/2014 - 14:41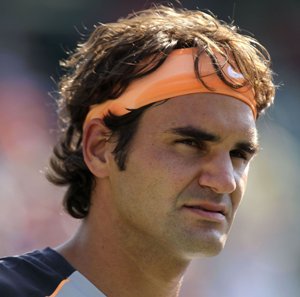 Johannesburg, Nov 01 - 17-time Grand Slam champion Roger Federer has said that it does not matter if he is number one at the end of this year or next after his hopes of knocking Novak Djokovic off the top of the ATP World rankings before the year end took a hit when he lost to Canadian Milos Raonic in the Paris Masters quarterfinals.
The big-serving Canadian beat Federer 7-6 (7/5), 7-5 and Djokovic later saw off Britain's Andy Murray 7-5, 6-2 to advance to the semifinals of a tournament he won last year. The Swiss had narrowed the points gap on Djokovic in recent weeks but defeat in Bercy halted his charge.
All is not lost for Federer, however, with Djokovic defending a stack of points at the ATP World Tour Finals in London starting on November 9 and the Swiss also able to boost his points tally in the Davis Cup final against France, Sport24 reported.
Federer, who beat Raonic in the Wimbledon semi-final this year, said that the Canadian played well, adding that as he said, he always thought it was going to get solved in London.
He also said that whether he is number one at the end of this year or one or two weeks later next year, it doesn't really matter. He added that Djokovic seems to be fit, anyway.
Seventh seed Raonic kept his hopes of qualifying for the season finale in London alive as he served 21 aces to beat Federer for the first time in seven attempts.
Raonic will now face Tomas Berdych in the semifinals after the Czech booked his place in London with a 6-7 (7/4), 6-4, 6-4 victory over South African Kevin Anderson, the report added. (ANI)
Technology Sector