Egypt rejects appeals against election panel decisions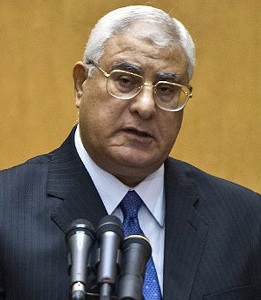 Cairo, March 23 - Egypt's interim President Adli Mansour rejected Saturday proposals by political parties to allow judicial appeals against the decisions of the presidential election commission, state media said.
"The presidency stressed that these recommendations cannot be approved due to the circumstances of the ongoing transitional period," reported Xinhua citing the president's constitutional adviser Ali Awad.
Controversy went on in Egypt over the past few weeks about article No. 7 of the newly-issued election law which immunises the decisions of the election panel against challenges.
Some politicians, including leftist presidential candidate Hamdeen Sabahy, described the article as "unconstitutional" and others referred to it as "disfigurement of democracy".
Those against the law contend that the protection of the panel violates article No. 97 of the newly-approved constitution that prohibits immunising any administrative act or decision against judicial review.
Since the law was approved, Egyptians have been waiting for military chief and Defense Minister Abdel-Fattah al-Sisi to officially announce his presidential bid.
Sisi's popularity has mounted since he ousted the country's first democratically-elected president Mohamed Morsi last July in response to mass protests.(IANS)