DTH face-off deepens, Kamal to premier 'Vishwaroop' in LA
Submitted by Supreet Sharma on Mon, 01/07/2013 - 17:04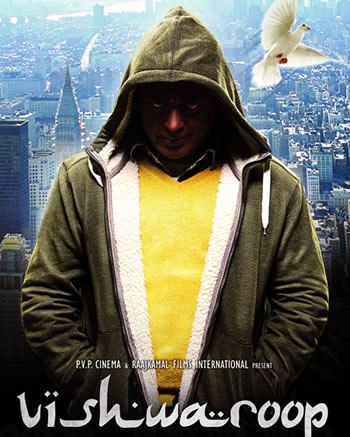 Mumbai, Jan 7 : To avoid a direct confrontation with the multiplex chains in north India, which are up in arms against Kamal Haasan's decision to hold a Direct To Home (DTH) premiere, "Vishwaroop" would be premiered in Los Angeles Jan 10.
Directed by Kamal, the bilingual is made in Tamil and Hindi. While the Tamil version is titled "Vishwaroopam", Hindi one is called "Vishwaroop".
"We knew all these problems would happen. A DTH premiere of a new film has not happened anywhere in the world. I am willing to take the risk because this move is going to change the movie-viewing experience. We have a premiere in LA (Los Angeles) on January 10," said Kamal.
"We couldn't get a DTH deal in the US worked out in time. I am flying down for the LA premiere with all the technicians. I want to show off the technical crew that pulled the films visual effects. They are on a par with what we see in Hollywood. Shekhar Kapoor, who plays a role, would join us," added Kamal, who also acts in the movie that also stars Rahul Bose, Pooja Kumar and Jaideep Ahlawat.
Kamal's partner Gauthami, who has done all the costumes in "Vishwaroop", left for Los Angeles a few days earlier than the rest of the team.
"Vishwaroopam" DTH premiere down South has not affected its theatrical release.
"We've 400 theatres in Tamil Nadu alone. We've confirmations of theatres all across Malaysia and Singapore. In Kerala, even the government is supporting our DTH plans," said Kamal.
"In Andhra Pradesh, the well-known producer-director Dasari Narayan Rao has taken 'Vishwaroopam' for distribution. He believes the DTH screening wouldn't affect its theatrical run," he added.
He admits he would now have to release "Vishwaroop" on DTH in the North and skip the theatrical release Jan 11.
"We have theatres in the North India. But not in numbers that we require. We wanted 900 theatres. We are short of that target," he said.
According to actor-director-producer, a multiplex chain backed out of a "verbal agreement".
However, Kamal is going ahead with his all-India DTH plans Jan 10.
"I am not worried. If the theatres don't come forward to release 'Vishwaroop' in the north, I am ready to go straight to DTH in the north. After they see that the DTH in the south would not affect the film's theatrical performance, in the north, they'd want a delayed theatrical release after the DTH screening. I am confident the move would prove a positive game-changer for the movie-going experience," he said(IANS)
Technology Sector