Djokovic beats Spain's Ferrer in Paris Masters final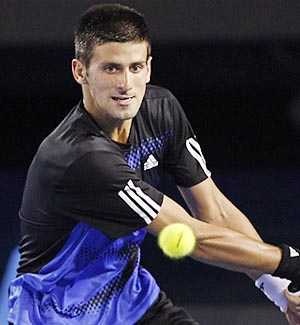 Paris, Nov 4 - Serbia's Novak Djokovic defeated defending champion David Ferrer of Spain 7-5, 7-5 Sunday in the Paris Masters final.
The victory allowed Djokovic, who won the title in Paris in 2009, to keep alive his hopes of edging Spanish star Rafael Nadal for the No. 1 spot in the rankings, with the two players gearing up to end the competition at the season-ending tournament in London.
Ferrer played tough in both sets, but he was unable to pull off the win.
The Spaniard served for both sets but was unable to keep Djokovic from snatching them from him.
Ferrer, who won his first Masters 1000 title in Paris, was trying to become the first player to win consecutive titles since the tournament was created in 1986.
Ferrer, the world No. 4, advanced to the final by upsetting Nadal 6-3, 7-5 Saturday.
All eight Paris Masters quarterfinalists will be back in action at the eight-man, season-ending Barclays ATP World Tour Finals, which gets underway in London Monday. (IANS)