Diesel under-recovery rises to Rs.6.80 a litre
Submitted by Dalbir Sahota on Thu, 05/01/2014 - 21:58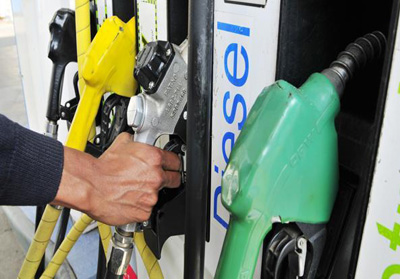 New Delhi, May 1 : The under-recovery, or revenue loss, applicable on diesel for the first fortnight effective May 1 has been pegged upwards at Rs. 6.80 per litre, the petroleum ministry said Thursday, while oil marketing companies (OMCs) avoided the monthly hike in fuel rates for the second month running.
This compares to the under-recovery of Rs. 5.49 per litre during the second fortnight of April.
"In the case of PDS kerosene and domestic LPG, the under-recoveries for the first fortnight of May 2014 will be Rs 33.85 per litre (Rs. 34.43 per litre in last fortnight) and Rs. 449.13 per cylinder (Rs. 506.06 per cylinder in last fortnight) respectively", the ministry said in a statement here.
"Oil marketing companies, effective April 16, 2014, are now incurring combined daily under-recovery of Rs. 342 crore on the sale of diesel, PDS kerosene and domestic LPG. This is higher than Rs. 337 crore daily under-recoveries during previous fortnight", the statement added.
The government in January 2013 decided that diesel prices should be raised in small doses of 40-50 paise a litre every month till losses on the fuel are wiped out. Diesel price has risen by a cumulative Rs. 8.33 a litre in 14 instalments since the decision.
OMCs Wednesday skipped the monthly diesel price increase, the second such miss in this period of the general elections.
The rise in diesel under-recoveries has been caused by the rupee's depreciation against the US dollar and the firming up of international oil prices, the ministry said.
The Indian basket crude oil price per barrel (159 litres to a barrel) as on the last trading day Wednesday stood at $105.84, or Rs. 6,386.39, at the exchange rate of Rs. 60.34 to a dollar.(IANS)