Deutsche Bank chief sees challenges and opportunities for future
Submitted by Sukhpreet Manchanda on Thu, 10/29/2009 - 18:03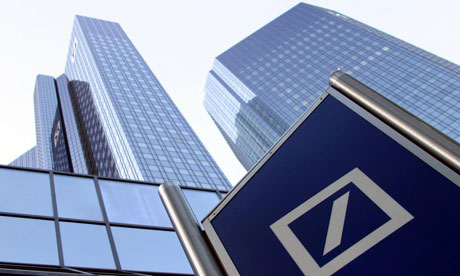 Frankfurt - Deutsche Bank performed well in the first nine months of 2009 but faces challenges in the future, management board chairman Josef Ackermann said Thursday.
"Looking ahead, we see challenges and opportunities ... We are well-prepared for both," Ackermann said as the bank elaborated on figures disclosed last week.
Ackermann said financial markets were showing signs of recovery, but the effects of the global crisis were still showing in some banking segments.
For this reason Deutsche Bank "extended the reductions in balance sheet and risk-weighted assets which reflect our strategic decision to reduce levels of trading risk, even at the expense of short-term revenue gains in some business areas," he said.
For the first nine months of 2009, net income was 3.6 billion euros (5.3 billion dollars), compared with 918 million euros in the first nine months of 2008.
Net income for the third quarter was 1.4 billion euros, up from 414 million euros in the third quarter 2008 as Germany's leading commercial bank profited from gains in investment banking.
Analysts had predicted that the bank's third quarter net earnings this year would be closer to 800 million euros.
Shares in Deutsche Bank slumped 2.4 per cent to 47.75 euros at the start of trading on Thursday.
The latest results are another sign that Deutsche has managed to ride out the crisis that has gripped the global financial sector over the last year better than many of it peers.