Defeat 'forces of darkness', Sonia urges voters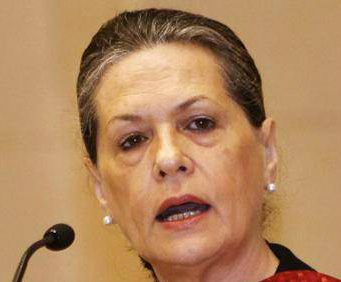 Thrissur (Kerala), April 7 : Congress president Sonia Gandhi Monday appealed to voters to defeat the "forces of darkness" while slamming the BJP for being divisive and the CPI-M for pursuing a redundant ideology.
At an election rally in Thrissur, Gandhi said the 2014 Lok Sabha polls were crucial for India and it was up to the voters to choose between a divisive Bharatiya Janata Party and a unifying Congress.
"We should fight to defeat the forces of darkness and we will make the forces of light come alive in our country, as we have always done," she said.
Accusing the BJP of dividing India, Gandhi asked voters to cast their ballots in favour of the United Progressive Alliance (UPA) in order to ensure that the "country remains united".
"You have to choose between the UPA, which has always stood for a secular India, and one where we have protected our democratic institutions, while our main opposition (BJP) wants a single-man rule and one which wants our country to get divided," she said.
The choice before the voters was very clear, the Congress president said.
"Do you want an India that belongs to all or an India that belongs to a few, which will serve the interests of a few," she asked.
Kerala goes to the polls Thursday to elect 20 Lok Sabha members. In the outgoing Lok Sabha, the ruling Congress-led UDF had 16 and the Left opposition had four members.
"These elections are very crucial as the future of our country and the direction that our country needs to take to go forward depends on its outcome," she said.
Gandhi also lashed out at the Communist Party of India-Marxist, the main opposition party in Kerala, accusing it of following a redundant ideology and pursuing politics of murder.
"Here, our opposition (CPI-M) is one party which has an ideology that has lost its relevance. We follow the principle of non-violence, while they promote violence," she said.
The Congress chief went on to add that the opposition has been hurling baseless charges of corruption against the UPA government.
"I stand here and challenge them to tell us what steps did they take in their states when corruption issues surfaced. No one has done like what we have done to tackle corruption," she said.
Gandhi's Thrissur rally was a hasty affair with the Congress president rushing off to another meeting in Kozhikode. Earlier in the day, she also addressed a rally in Kochi.
Gandhi was the Congress's third star campaigner in Kerala. On Sunday, Prime Minister Manmohan Singh addressed a rally in Kochi while party vice president Rahul Gandhi addressed four rallies across the state Saturday.(IANS)