Court seeks reply over Anna SMS cards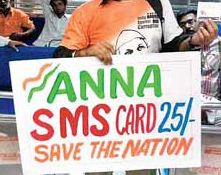 New Delhi, Nov 30 : A court here Saturday asked Delhi Police to file an action taken report on a plea seeking an FIR against the erstwhile Team Anna for allegedly cheating people by selling Anna SMS cards.
The Anna SMS card was distributed during the movement against corruption led by Team Anna, also called India Against Corruption (IAC) in 2012, with a coupon of Rs. 25, for the purpose of receiving news alerts and updates on the anti-corruption movement.
A subscription was valid for a year, but the service was abruptly discontinued.
Metropolitan Magistrate Akash Jain asked police to file a detailed report on the complaint by Dec 10, saying he was not satisfied with the one-page action-taken report earlier submitted.
Police sought some more time, saying it needed to conduct an inquiry and go into the facts of the complaint.
The court was hearing a private complaint filed by Rumal Singh, who alleged that IAC had cheated people by generating money through the sale of the cards, and alleged that about four crore people had been defrauded.
Singh claimed to have been part of IAC.
The police Saturday told the court that those who bought the cards had done so voluntarily, and not under duress.
Police said the IAC started selling the SMS cards from the last week of February 2012 at the World Book Fair at Pragati Maidan.
The action-taken report was filed by Parliament Street police station in the national capital; police also said that since the offence had taken place under the jurisdiction of the Tilak Marg police station, the case should be transferred there. (IANS)