Commodity Outlook for Nickel by KediaCommodity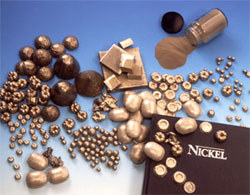 China's nickel consumption is expected to grow 5% in 2010 to 470,000 metric tons. Consumption this year is estimated around 447,000 tons. The slowdown in growth from an estimated 40% this year reflects the need for stainless steel producers to absorb substantial nickel stocks. One of nickel's key uses is to coat steel to produce stainless steel.
Nickel has touched a low of Rs 770.3 a kg after opening at Rs. 775, and last traded at Rs 781. For today market is looking for the support at 772.40, a break below could see a test of 763.90 and where as resistance is now likely to be seen at 787.30, a move above could see prices testing 793.70.
Trading Ideas:
NICKEL TRADING RANGE IS 755-805.
CHINA NICKEL CONSUMPTION TO GROW 5% ON YEAR
BUY NICKEL NOV @ 779-782 SL 774.50 TGT 786-790-794.50-798.MCX
NICKEL IS GETTING SUPPORT AT 774.60 OVERALL SOME BOUNCE CAN BE SEEN TODAY
RESISTANCE FOR NICKEL IS AT 784.80 BAV THIS RALLY TILL 790-795 IS EXPECTED
Commodity Analysis by Kedia Commodity, India's Premium Research House, Mumbai. Check out more commodity reviews at KediaCommodity. com