Chinese police shoot Tibetan dam protestors, report says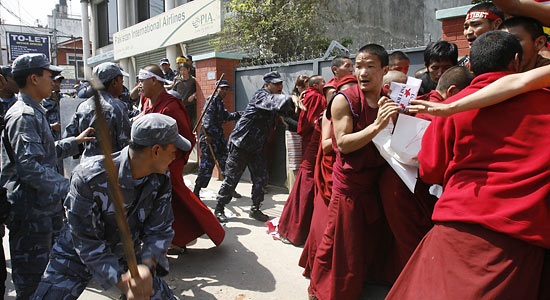 Beijing  - Armed police in a Tibetan area of south-western China opened fire on protestors who opposed resettlement for a new dam, seriously wounding at least six Tibetan women, the Tibetan government-in-exile said Tuesday.
The police "indiscriminately fired at Tibetan residents of Tawu and Nyagchu counties" during the protest Sunday in Sichuan province's Kardze prefecture, which is called Ganzi in Chinese, said the report posted on the government-in-exile's website, www. tibet. net.
The protestors were "venting their anger against China's forceful relocation of tens of thousands of local Tibetans" to make way for a dam and hydroeclectric plant between the two counties, it quoted local sources as saying.
Police took away the injured protestors, six of whom were named, and it was unclear if any of them had died of their injuries, the report said.
Sunday's clash followed about 18 months of conflict over the plans to build the dam.
Tensions grew after the local government sent a large detachment of paramilitary police to the area on May 5 and began demolishing some homes, the report said.
The Tibetan government-in-exile is based in Dharamsala, India, which is also the seat of the exiled Dalai Lama.
Matt Whitticase of the London-based Free Tibet Campaign last month said Kardze prefecture was "probably the most inflamed of any Tibetan area" of China.
In a statement on Tuesday on the recent shooting of Tibetan protestors, Whitticase said Tibetans are often resettled on the pretext of environmental protection but their land is sometimes used for other projects.
"As Free Tibet has reported in the past, despite official Chinese claims that nomads are resettled to ease environmental problems, large and often pollutive infrastructure projects often spring up in areas from which the nomads have been resettled," Whitticase said.
US-based Radio Free Asia on Sunday said armed police had surrounded hundreds of Tibetan protestors at the site of a planned gold mine near a sacred mountain in Markham county in China's Tibet Autonomous Region.
Many Tibetan areas of China have remained tense since widespread protests against Chinese rule last spring. (dpa)