China welcomes Geneva II conference on Syria
Submitted by Hardeep Sidhu on Tue, 11/26/2013 - 20:51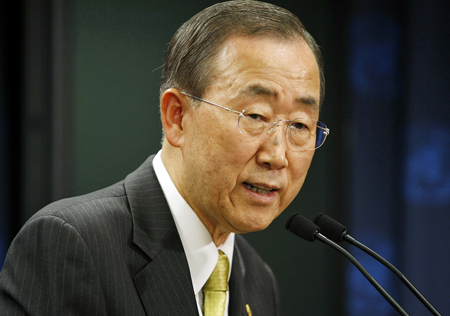 Beijing, Nov 26 : China Tuesday welcomed and expressed support for the second Geneva conference on Syria, urging all parties concerned to engage in the political process and make positive progress.
UN Secretary-General Ban Ki-moon Monday announced that the Geneva II conference will be held Jan 22, 2014.
"It's important progress in implementing Resolution 2118 of the UN Security Council and pushing for a political solution on Syria, which has also been China's constant orientation," Xinhua quoted Chinese foreign ministry spokesman Qin Gang as saying.
The Syrian issue must be settled via political means, he told a press briefing.
China calls on all sides in Syria to take the interests of the country and the people as priorities, actively engage in the political process, work with the international community and prepare for the conference, Qin said.
China will also make its own contribution to that end, he added.
In a statement issued by his spokesperson, Ban said the conference is aimed at fully implementing the Geneva Communique of June 30, 2012, including the establishment of a transitional governing body with full executive powers.
The UN chief said he expected that the Syrian representatives will come to Geneva "with a serious intention" to end the war that has already left well over 100,000 people dead and displaced almost nine million others. (IANS)
Technology Sector