Campbell-Brown leads Caribbean contingent in Diamond League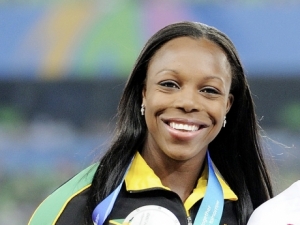 New York, May 18 : Three-time Olympic gold medallist and four-time World champion Veronica Campbell-Brown will lead about three dozen Caribbean athletes in the Adidas Grand Prix here next week.
The Grand Prix, the third meet of the glitzy, multi-million dollar Diamond League, will be held May 25 at Icahn Stadium on Randall's Island here, reports CMC.
It will feature dozens of international superstars, including 2012 Olympic gold medallists David Rudisha, Jenn Suhr, Aries Merritt, and Brittney Reese.
Campbell-Brown, who will run her specialty the 200 metres, will be joined by fellow Jamaican individual medallists Warren Weir, the 2012 Olympic bronze medallist at 200 metres; Sherone Simpson, 2008 Olympic silver medallist at 100 metres; and Shericka Williams, 2008 Olympic and 2009 World Championships silver medallist at 400 metres.
Campbell-Brown will also compete against Novlene Williams-Mills, the 2007 IAAF World Championships bronze medallist over 400 metres; and Kenia Sinclair, 2006 Commonwealth Games and World Indoor silver medallist at 800 metres.
Nickel Ashmeade, the 2012, 200 metres Diamond Race winner, will also be among the Jamaican headliners, organisers said.
Other highlighted athletes comprise Ryan Brathwaite of Barbados, the 2009 IAAF World Champion in the 110-metres hurdles; Richard Thompson of Trinidad and Tobago, the 2008 Olympic silver medallist at 100 metres; and Renny Quow, the 2009 IAAF World Championships bronze medallist at 400 metres.(IANS)