BlackBerry abandons acquisition deal with Fairfax even as CEO steps down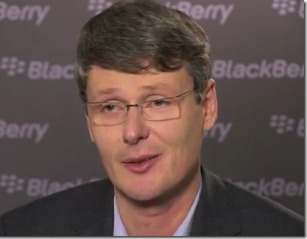 Washington, Nov. 5 : BlackBerry has reportedly abandoned its acquisition deal with Canada's Fairfax Financial for 4.7 billion dollars that sent the sinking smartphone manufacturer's shares down by 17 percent, lowest since
2003.
BlackBerry failed to strike a deal with the Canadian investor Prem Watsa's company, as it struggled to line up financing.
According to Fox News, the mobile phone maker's sinking fortune appears to indicate towards its last days in the market where it reined for years, before losing ground to competitors like Apple and Google.
BlackBerry announced the end of its strategic review along with the exit of its CEO Thorsten Heins and said that Fairfax has agreed to invest 1 billion dollars through convertible shares.
The company's outgoing chairman Barbara Stymiest said that the financing provides an immediate cash injection on terms favorable to BlackBerry, enhancing the company's substantial cash position.
The report said that BlackBerry will continue to pursue a sale and is now more open to breaking itself up.
BlackBerry announced that former CEO of enterprise data management firm Sybase, John Chen, would serve as interim CEO and executive chairman, while Watsa, who in the company's board earlier, has decided to join back as director.
Chen said that it would take six quarters for the company to complete its turnaround adding that he has no interest in shutting down BlackBerry's handset business.
The 1 billion dollar private placement of convertible debentures values BlackBerry at 10 dollars per share, a 28.7 percent premium to its closing price of 7.77 dollars last week.
The report added that a pack of tech firms were exploring a strategic bid for BlackBerry, including Google, German software maker SAP, networking giant Cisco Systems, chip leader Intel and Asian electronic makers LG and Samsung. (ANI)