BJP blames government for stalemate in parliament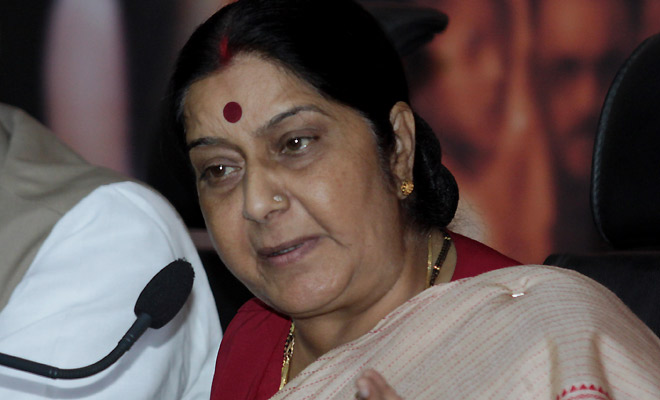 New Delhi, Aug 24 : The Bharatiya Janata Party Saturday blamed the Congress' ambivalent position on carrying out its own decision to carve out a separate Telengana state out of Andhra Pradesh for the stalemate in parliament during the ongoing monsoon session.
Leader of Opposition in Lok Sabha Sushma Swaraj told media persons that unless the government executed its decision and carved out Telangana, Andhra Pradesh would not move towards normalcy.
Extending her BJP's full support for amending the constitution, she said that it was this state of indecision and consequent uncertainty that was keeping Andhra Pradesh on the boil.
Holding government responsible for the current state of affairs, Sushma Swaraj alleged that "they are keeping the decision in limbo".
Claiming that the government was intending to extend the session of parliament till Sep 5 and introduce absolutely new bills for setting up a Civil Aviation Authority and Judicial Appointment Commission, she said it should instead discuss the bill for creating Telengana.
Since a constitutional amendment for creating Telengana required two-third majority in parliament, the BJP would fully support such a move, she assured.
However, Sushma Swaraj, in unambiguous terms, said her party was opposed to the Indo-Bangladesh Boundary Land Agreement and had told Prime Minister Manmohan Singh that the government should not list the Indo-Bangladesh Boundary Land Agreement bill for discussion.
The BJP had announced its stand when the prime minister had invited party leaders at his residence for discussion on the agreement.
She said that even the prime minister had said that since the principal opposition party was opposed to the Indo-Bangladesh Boundary Land Agreement, the bill to back it would not be listed for discussion in the monsoon session.(IANS)