Author Vargas Llosa sees Venezuela on road to dictatorship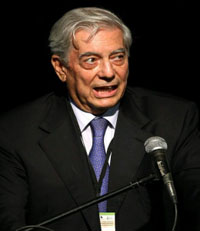 Caracas  - Peruvian author Mario Vargas Llosa on Thursday sharply criticized the Venezuelan government of President Hugo Chavez.
"The Venezuelan government is ever closer to a communist dictatorship and ever further from a liberal democracy," he said during a forum in Caracas. "If that path is not cut off and stops, Venezuela will become Latin America's second Cuba."
Vargas Llosa, 73, ignored Venezuelan authorities, who had demanded that he refrain from making political comments in while visiting Venezuela.
"We do not want Venezuela to become a totalitarian, communist society," he said.
Vargas Llosa said that "the Chavez phenomenon" was a result of the failures of Venezuelan democracy and failure of economic development in recent decades to benefit the wider population of the oil-rich country.
"It was a bad economic policy because there was waste and because there was corruption," he said. "There can be no doubt about that."
The writer and liberal politician - who ran for the Peruvian presidency in 1990 - was briefly detained Wednesday on arrival at Maiquetia airport near Caracas.
The author of The Green House (1965), Conversation in the Cathedral (1969) and Aunt Julia and the Scriptwriter (1977) is an outspoken critic of Chavez and is in Venezuela to take part in a forum on freedom and democracy.
According to forum organizers, immigration officials took Vargas Llosa's passport and interrogated him for more than an hour. (dpa)