Apple could be forced to launch 'iPhone mini' amid expanding Samsung market share
Submitted by Sarthak Gupta on Sat, 01/05/2013 - 15:13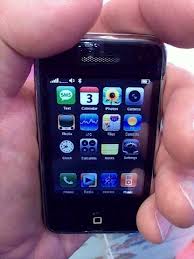 London, Jan 5 : Tech giant Apple could be forced to launch a new smaller iPhone to respond to Samsung's growing share of the smartphone market, analysts have predicted.
According to research firm Strategy Analytics, the Korean mobile maker is expected to increase its smartphone sales by 35 per cent.
That would take its sales to 290 million units this year, up from 215 million in 2012.
Meanwhile, Strategy Analytics predicts that Apple smartphone sales will grow by 33 per cent, to 180 million units, the Telegraph reports.
According to the paper, those figures would give Samsung a 33 per cent share of the global smartphone market for 2013, while Apple would trail on 21 per cent.
Samsung''s advantage is helped by the fact that the company makes several different models of smartphone, leading Strategy Analytics to suggest that Apple might be forced to release another iPhone model, perhaps a smaller ''iPhone mini', the paper said. (ANI)