Apple boss Tim Cook talks of 'great stuff' pipeline while lamenting share price fall
Submitted by Sarthak Gupta on Thu, 02/28/2013 - 14:50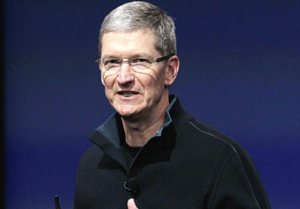 London, Feb 28 : Apple's chief executive Tim Cook has acknowledged the growing alarm about the company's struggling stock price, but said the tech giant was working on a pipeline of "great stuff".
He told Apple''s annual meeting that no-one enjoyed seeing the share price fall some 35 percent from its September high.
The fall has led to calls for Apple to give shareholders some of its 137 billion dollars cash pile.
According to the BBC, Cook said that a return of cash to investors was an option for the board to consider, though he made no promises.
Apple has seen its share price fall from a record 702.10 dollars on the back of disappointing sales and worries about competitors such as Samsung.
Cook, however, told the meeting that Apple was working on a string of new products, although he gave no details. (ANI)