Akram says he 'feels' for Pak 'spot-fixing' tainted trio
Submitted by Narinder Hans on Sat, 09/17/2011 - 14:43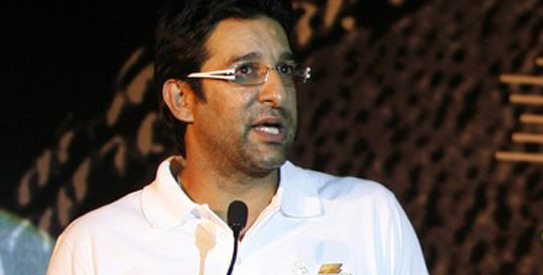 Islamabad, Sept 17: Former Pakistan captain Wasim Akram has said that he `feels' for the banned tainted trio of Salman Butt, Mohammad Amir and Mohammad Asif, as they did not have the ''awareness''.
In February, Salman was banned for ten years with a five-year suspended ban, Asif for seven years with two-year suspended ban and Aamer for five years by the International Cricket Council's Anti-Corruption Tribunal on spot-fixing charges.
The charges related to Pakistan's Test match against England at Lord''s last year, when a British tabloid claimed that Butt, Amir and Asif had colluded in a spot-fixing scam organised by British-based agent Mazhar Majeed.
When asked during an interview about his feelings as a former Pakistani cricketer to see the spot-fixing revelations last year, Akram said it was quite painful, not only for him, but for every Pakistani national.
"Obviously it was very painful - not just for me but for every Pakistani living in Pakistan or living abroad. You know I feel for the boys. They should have had the awareness - the management should have been aware. Our lads are not very well-educated - they come from very humble backgrounds," he said.
"Obviously if I am the manager or coach of the Pakistan team, I should know where they [the players] are going and who they are meeting with. It might be a privacy invasion but this is part of our culture - to preach to them, to teach them that bad company would lead them to wrongdoings," he added.
The former captain pointed towards Amir, ruing that a `rare talent' was wasted after being implicated in the spot-fixing scandal due to lack of awareness.
"They do not have that awareness. Look at Amir. What a rare talent he is - rather he was! He came and took five wickets at Lord's straightaway. You know I always wanted my name on the [Honours] board but despite all my achievements I never got five wickets at Lord's! He (Amir) came to England played at Lords and got his name on the honours board right away," said Akram.
"He could also bat, what a talent that boy was. Even Asif - what a tremendous seam bowler! So yes, it was a sad day and I do feel for these boys," he added. (ANI)