Ajay Banga elected as new chairman of USIBC
Submitted by Keshav Seth on Mon, 04/16/2012 - 23:11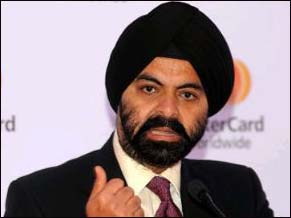 Indian American, Ajay Banga has been selected as the Chairman of the US India Business Council (USIBC), a development that might help boost trade prospects between the two countries at a time when political pressures are making the business difficult.
The USIBC announced on Sunday that it has elected Mr. Banga. as its new chairman. He will replace Harold "Terry" McGraw III, of The McGraw-Hill Companies as the head of the trade body. 50-year-old Mr. Banga has been working as the President and Chief Executive Officer of MasterCard.
"It is an exceptional honour to be entrusted with such a legacy and I look forward to building on their successes as USIBC's next Chairman," Mr. Banga said in a statement.
The council is hoping to take the US-India economic relationship to an entirely new level under the leadership of Mr. Banga. Officials point out that US November presidential elections and 2014 national polls in India has made it difficult for businesses and the presence of the likes of Mr. Banga at USIBC will significantly help businesses deal with difficulties.
Mr. Banga, who was born in Punein Maharashtra, is a son of Indian Army General, Harbhajan Singh Banga. He is an alumnus of IIM, Ahmedabad and has already worked at Citibank and PepsiCo.