Air Astana signs code-share agreement with Air India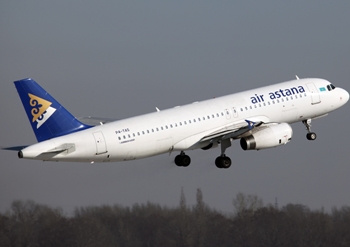 New Delhi, Nov.6 - Kazakhstan's largest airline Air Astana has signed a free flow code-share agreement with state-run airline and Star Alliance member Air India. "As a state-run airline and Star Alliance member carrier, Air India feels honoured to enter into this code-share agreement with Air Astana. This agreement has enabled Air India to reach out to the CIS (Commonwealth of Independent States) and eastern European market," ssaid Air India Chairman and Managing Director Rohit Nandan.
A free flow code-share agreement implies pursuing joint marketing policy by two or more air companies. As a result, a customer can purchase a flight ticket from any of the parties to a code-share agreement, while the flight is conducted by only one of the cooperating airlines, the operating carrier.
It facilitates routing for customers, as cooperating airlines strive to synchronise their schedules and coordinate luggage handling, which makes transfers between connecting flights less time-consuming.
The cooperating airlines also share the responsibility for luggage misses due to a delay of the first flight and the second airline is unlikely to charge extra fees or deny boarding in cases when the first cooperating airline caused a delay.
The agreement, which is subject to regulatory approvals, was signed by Air Astana Vice President for Sales Worldwide Richard Ledgerin and Air India Chairman and Managing Director Rohit Nandan.
Under this Agreement, Air India would codeshare as marketing carrier on flights operated daily by Air Astana (KC) on the Delhi-Almaty route.
"The agreement with Air Astana is the beginning of the partnership between the two airlines and both the carriers look forward to an expansion of the code share beyond Almaty and New Delhi on each other's extensive flight network. The pact would benefit passengers across Air India's network as well as Star Alliance carriers to travel seamlessly between India and Kazakhstan," Rohit Nandan announced, adding that Air India looked forward to expanding its relationship with the Kazakh national carrier.
This code share will also facilitate the historically strong flow of corporate traffic from the oil and gas, pharmaceuticals and information technology sectors and could increase the number of Indian students studying in the Central Asian region.
Air Astana is the only carrier in Eastern Europe and the CIS flying with the SKYTRAX-4 star tag and the second air company in the Commonwealth of Independent States region to cooperate with Air India, after Russian Aeroflot. (ANI)