50% diesel, seed subsidy to farmers in rain deficit areas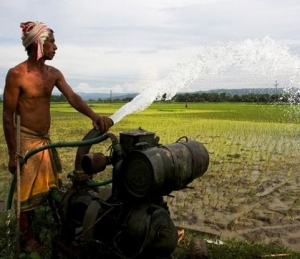 New Delhi : With an aim to save standing kharif crops from weak monsoon, the Centre today announced 50 per cent diesel subsidy to farmers in places where rainfall deficiency was more than 50 per cent as on July 15.
The 50 per cent subsidy will also be applicable to places as and when states declare them as drought-hit.
The government also raised the subsidy ceiling to 50 per cent on seeds in order to partially compensate the cost of resowing. It also decided to give a special package of Rs 35,000 per hectare for rejuvenation of horticultural crops in areas declared drought-hit.
Intervening during a discussion on natural calamities in the Rajya Sabha, Agriculture Minister Radha Mohan Singh said: "No state has declared drought yet. However, there are reports that in many places rainfall deficit is more. A day before yesterday, a decision was taken to provide diesel subsidy to farmers."
The Centre has issued a directive to states that diesel subsidy be given to farmers to supplement irrigation to protect standing kharif crops in areas where rainfall deficit is more than 50 per cent as on July 15, he said.
The 50 per cent diesel subsidy, to be borne equally by the Centre and state governments, will be given to a maximum of two hectares per farmer between July 15 and September 30, as per the directive.
Noting that monsoon deficit has come down since June, the minister said that the overall deficit stood at 18 per cent as on August 8 compared to 40 per cent in June.
"Weather reports do not give clear picture as there are places having 50 per cent rain deficit, he said, adding that his ministry has drawn up contingency plans for 520 districts.
During the drought years in 2009 and 2012, the previous UPA government had announced a 50 per cent diesel subsidy for farmers in rainfall deficit areas.
(PTI)