12 Year Old Girl Dies After Rubella Vaccination In Sri Lanka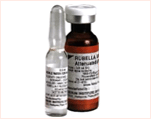 In a shocking development, a 12 year old girl student died and 27 others were hospitalized after being administered a shot of Rubella vaccine in Sri Lanka's Matara district.
The girl, Piyasala Hansani, died at his school St. Thomas' Girls School, about 160 km south of the capital Colombo.
It can be recalled that nearly 300 students of the school were given vaccine after which some students had fallen ill and were admitted to the hospital.
Meanwhile, the Sri Lankan President Mahinda Rajapaksa has already ordered a full probe on this episode.
The President had asked the immediate cancellation of the vaccine.
Besides, Rajapaksa has also asked the family of the student to be paid Rs. 500,000 as compensation immediately.
A special squad has been deployed to conduct a full probe by the Health Ministry.  The government had made it clear that the findings of the report would be made early.
However, the main Opposition party UNP has criticized the government for this incident. UNP Assistant Secretary Renuka Herath said, "This is serious and who will take the responsibility towards the parents and the family of the dead child?"