Ganguly scores his second best IPL knock against Chargers
Submitted by Rajiv Dhoot on Fri, 04/02/2010 - 09:18.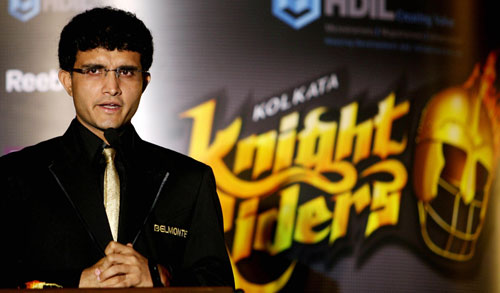 Kolkata, April 2 - Sourav Ganguly scored his second highest knock in Indian Premier League during the Kolkata Knight Riders match against Deccan Chargers Thursday.
Ganguly scored 88 off 54 balls to help Knight Riders to a 24-run victory against the defending champions. His best is also against Deccan Chargers (91 off 57 balls) at Hyderabad on May 11, 2008.
Other statistical highlights of the match:
Ganguly's tally of five half-centuries is the most for Kolkata in the IPL, surpassing Brad Hodge's tally of four.
Ganguly's runs tally of 241 is the fourth best in the third edition of the IPL - the top three being Jacques Kallis (362), Sachin Tendulkar (314) and Yusuf Pathan (274).
Ganguly has got the man of the match award for the third time in the IPL.
For Kolkata, Ganguly is the first player to complete 200 runs in the 2010 edition of the IPL, aggregating 241 runs at an average of 30.12 in eight matches.
Ganguly has registered his fifth fifty (88 off 54 balls) and during his innings, he has completed 700 runs in the IPL, aggregating 779 runs at an average of 25.12 in 34 matches.
Ganguly and David Hussey have shared a fourth wicket partnership of 79 - Kolkata's best in the IPL.
Kolkata (181/6) have recorded their best total at Eden Gardens, outstripping the 175 for seven against Punjab on May 25, 2008.
Herschelle Gibbs' 50 off 45 balls is his fifth IPL fifty - his first in the third edition.
Gibbs took his tally in the 2010 edition of the IPL to 220 runs at an average of 31.42 in seven matches - the most for Deccan.
Jaskaran Singh (2/18) has recorded his best bowling performance in Twenty20.
Deccan Chargers' 24-run defeat is their 23rd in the IPL - the most by any team. The second place is shared by two teams with 20 defeats each - Bangalore and Kolkata.
Kolkata Knight Riders have posted their fourth victory in eight matches in the third edition of the IPL.
Deccan's 24-run loss is their fourth defeat, slipping into the seventh plce.
Monish Mishra (29 off 16 balls) has registered his highest innings in the IPL.
Andrew Symonds, with his 45 off 37 balls, has taken his runs' tally in the third edition of the IPL to 211 at an average of 30.14 in seven matches. (IANS)
US News