Hilary Swank
Submitted by Kiran Pahwa on Sun, 01/06/2008 - 11:02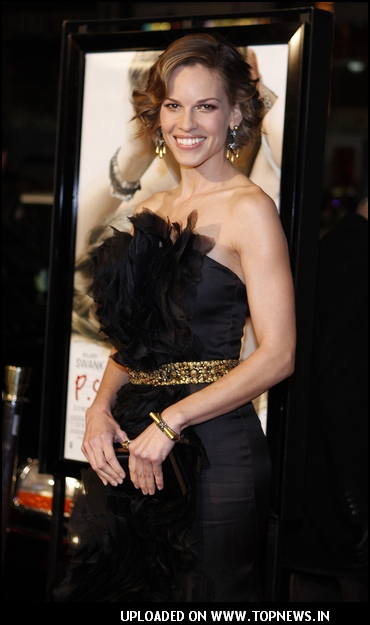 Washington, Jan 6: American actress Hilary Swank has refused to celebrate St Valentine's Day – because she believes that every day of the year should be treated like Valentine's Day.
The actress feels that one should live every day filled with love and romance.
The 33-year-old said that too much importance has been given to the day and that it has become a totally commercialised and overrated event.
Submitted by Kiran Pahwa on Wed, 12/12/2007 - 10:40
Washington, Dec 12: Hilary Swank has gone public with her relationship with boyfriend John Campisi, declaring that she's in "love" with him.
In a recent interview for the January issue of W magazine, the Oscar winning actress admitted that Campisi, her former agent, is a "great guy. "
"Of course I'm in love. Or I wouldn't be in this relationship for as long as I've been, " People quoted her, as telling the mag.
"He's a great guy, " she added.
Submitted by Nina Sahu on Thu, 12/06/2007 - 06:44
Washington, Dec 6: Hilary Swank has signed on to star in the big screen adaptation of John Marks' novel "Fangland".
The pic is being made by Das Films and Blumhouse Prods., and will see Swank playing a TV producer who travels to Romania for an interview with a notorious European arms dealer who happens to be a modern-day Dracula.
On board as producers are Sriram Das of Das Films and Jason Blum of Blumhouse as well as the Oscar winning actress, reports Variety.
Tracy Underwood is on as executive producer.
Submitted by Kiran Pahwa on Fri, 10/12/2007 - 09:58
Washington, Oct 12 : Actress Hilary Swank used her hair for a noble cause by donating her long locks to a cancer patient.
The actress chopped off her locks on the Oprah Winfrey Show as part of hair product giant Pantene's Beautiful Lengths charity campaign.
The purpose of the campaign is to urge men and women to cut and donate their hair for wigs to aid cancer sufferers undergoing chemotherapy.
The 'Boys Don't Cry' star therefore took extra care of her tresses to make sure that whoever gets them will feel more than proud.
Submitted by Nina Sahu on Mon, 10/01/2007 - 08:20
Washington, Oct 1 : Actress Hilary Swank has revealed that she owes her fit physique to her genes.
Swank, who was present at the yet-to-open Almada restaurant in Mayfair to celebrate her role as the face of beauty house Guerlain's new Insolence fragrance, was in an ultra figure hugging black Dolce & Gabbana dress.
The Oscar winning actress said that despite good genetics, she still enjoys the result of working out.